Grand Moff Joseph (GMJ) is a long time Farker (vintage 2003), and one of the early members of the FWC.  First appearing during the August 29, 2011 RAW thread, GMJ quickly took to republishing the FWC Raw Checklist (v1.0) in subsequent threads, helping to establish the checklist as a central part of the FWC-verse.
Over his nearly two year career with the FWC, GMJ has established a commendable level of success, including four Gredunza Championships, five tag team championships, and one Hardcore Championship belt, among other honors.  He is also a founding member of the 1004 Horsemen.
GMJ is perhaps best remembered for his efforts to organize and execute the distribution of the first official FWC t-shirt, which featured custom artwork by an FWC founder, Hobblekitty.
FWC Championships
[
]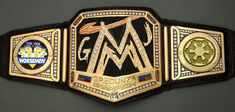 Moss-Covered Three Handled Family Gredunza championship
1st Gredunza (post 2008):   WM 28, thread 7026565
2nd Gredunza (post 2008):  Raw 6/18/12, thread 7168161
3rd Gredunza (post 1004):  Raw 5/13/13, thread 7747978
4th Gredunza (post 1004):  Raw 5/27/13, thread 7768623
FWC Tag Team Championship
FWC FFLM Trivia Championship

FWC Hardcore Championship  (submit 1004th post in a non-wrestling thread)
1st Hardcore win:  Libertarian/Politics Tab Meltdown, thread 7797616

FWC Japan - Royal Rumble "I Guessed it YAY" Championship:  Royal Rumble 2013 (1/27/13)
Outside of the FWC
[
]
Outside of the FWC, GMJ can usually be found in the Politics tab, laying the internet smackdown on trolls who don't know what time it is.  Whe not Farking around, GMJ masquerades as a User Experience professional during normal business hours.
When not doing any of the above, GMJ can normally be found spending time with his lovely wife, detailing cars, or playing video games.