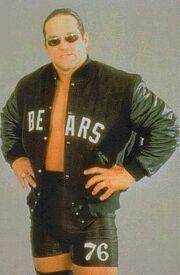 Steve "Mongo" McMichael is a former NFL linebacker and WCW wrestler. McMichael won a Super Bowl XX as a member of the Chicago Bears, single-handedly scoring all 46 points in the Chicago's win over the New England Patriots.
He later joined WCW as a member of the Four Horsemen, becoming the best wrestler in the stable only because Paul Roma was no longer in it. Despite his incredible wrestling ability, McMichael was only able to win the WCW United States Championship. Ric Flair needed the money a champion draws to pay off his growing number of tax bills/ex-wives, so WCW bookers kept passing over McMichael and giving Flair the belt. McMichael left WCW and retired from the wrestling business in 1999.
It is rumored that like King Arthur, he will return when the wrestling business needs him.
Botchamania
[
]
Clips of McMichael's superb wrestling ability began making their way onto Botchamania, the long-running YouTube clip series showcasing the best of pro wrestling. Typically his footage was prefaced by an overdubbed scene from "Blazing Saddles", although more elaborate setups have been used.
fWc meme
[
]
One day, fWc member hundreddollarman began posting the transcribed dialogue of the Botchamania bit in large text along with the picture above in Fark wrestling threads. It became a regular weekly occurence and later added to the fWc weekly checklist. Thanks to hundreddollarman's dedication, it is one of the longest-running fWc memes, although he is occasionally a lazy dipshit and forgets to post it or just posts "(herecomesMongo.jpg)" instead of the full text.
Bizarro Mongo

[

]
Occasionally, Mongo appears in TNA discussion threads. Since TNA is often thought of as the "other" wrestling promotion, the text and photo appear upside-down.
[

]
That is, when hundreddollarman remembers where he put that particular piece of copypasta.
Pay-per-view Mongo

[

]
An alternate take on the Mongo meme, with a picture of McMichael putting NFL great Reggie White in a headlock, surfaced in the SummerSlam 2013 thread. Some fWc-ites suspected hundreddollarman was trotting out a special pay-per-view edition of the meme. The truth is he maxed out his bandwidth on Photobucket and botched the original attempt at the post.
Some time later, hundreddollarman decided that it would in fact be a special pay-per-view occurence.
Other Fark appearances
[
]
The Mongo meme sometimes appears in non-wrestling threads, usually when the headline makes a reference to "Blazing Saddles." An fWc member will usually wonder where hundreddollarman is to post the meme and usually he has the meme posted shortly thereafter. Sometimes a Farker (fWc member or otherwise) will attempt to post or refer to the meme, but are promptly chairshotted by fWc members for their insolence.
Mongo text
[
]
"... from the Harley Races, to the Barry Windhams... to the Ric Flairs..."
"Never mind that shit. Here comes Mongo!"