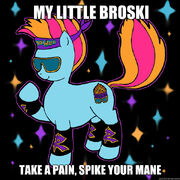 Hobblekitty, while not a founding member, has been around almost from the beginning and was a constant on the Fark threads until the Split. Hobblekitty is now a member of the splinter group fWc Japan and is a moderator in Japan as well as fWc Facebook. 
Joining the fWc
[
]
Hobblekitty became a member of the fWc completely by accident, in a failed attempt to mock the pony culture that had somehow found itself inexplicably entwined in discussions regarding professional wrestling. At the time, a fellow farker kept talking about this "cool new wrestling thread" that kept showing up on Fark, but didn't get "what was up with all the ponies". Hobblekitty attempted to troll the thread with the drawing to the right, but failed, instead being drawn into the mirth and fun of the weekly discussions. Admittedly, she is only a casual fan of professional wrestling, unlike many other members of the fWc.  As a young kid she enjoyed the Saturday morning WWF programming (and G.L.O.W which aired directly after), watching the greats such as Jake the Snake, Hacksaw Jim, Macho Man and Ultimate Warrior squash a seemingly endless sea of nameless jobbers, but became disenchanted in sixth grade after a Weekly Reader expose mentioned pro wrestling was fake. It wasn't until she was in her thirties that she was able to enjoy wrestling again. 
Hobblekitty's role as a member of the fWc prior to the split was mainly photoshops and drawings. She designed the original fWc membership badge, the fWc t-shirts (in conjunction with Grand Moff Joseph), the now defunct gredunza plaques and dozens of other photoshops. 
Hobblekitty is a complete mark for the Intellectual Savior of the Masses, Damien Sandow.
Hobblekitty is a one time Gredunza champion and former member of the Broski Pac stable.
Hobblekitty has been known to occasionally have differences of opinion regarding not only the logistics of WWE storylines and characters, but also the philosophy of the fWc as a whole. She is a little unstable, so don't feed her if you don't want her to keep showing up on your doorstep.