Jurassic World: Dominion Dominates Fandom Wikis - The Loop
Play Sound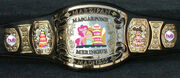 The Marzipan Mascarpone Meringue Madness championship (or MMMM for short) is a LARP belt contested in the FARK threads dedicated to the program My Little Pony: Friendship is Magic. It is the first fWc belt to be set up and regularly defended in a non-wrestling thread. The title of the belt comes from the name of a dessert created in the MLP: FIM episode "MMMystery on the Friendship Express"
Origin and History
[
]
Somethingsomethingsomething Global Legendary Television Champion of the World Help me Grand Moff Joseph you're my only hope
MMMM Rules
[
]
The MMMM belt is awarded to the person who is able to post the phrase "Marzipan Mascarpone Meringue Madness" (or some variant thereof) on the 150th post of an MLP: FIM thread. Originally the title was awarded to the 200th poster, but the post count was reduced due to the challenge in reaching 200 posts in one thread.
List of Past MMMM Champions
[
]
The following is a list of previous holders of the MMMM belt
| | | |
| --- | --- | --- |
| Episode Number | Episode Date | Result |
| 4x1,2 | 11/23/2013 | Short* |
| 4x3 | 11/30/2013 | Short* |
| 4x4 | 12/7/2013 | Short* |
| 4x5 | 12/14/2013 | Short* |
| 4x6 | 12/21/2013 | Short* |
| 4x7 | 12/28/2015 | Short* |
| 4x8 | 1/4/2014 | Short* |
| 4x9 | 1/11/2014 | Grand_Moff_Joseph** |
| 4x10 | 1/18/2014 | BOTCH |
| 4x11 | 1/25/2014 | clintster |
| 4x12 | 2/1/2014 | BOTCH |
| 4x12 | 2/1/2014 | qorkfiend |
| 4x13 | 2/8/2014 | FirstNationalBastard |
| 4x13 | 2/8/2014 | BOTCH |
| 4x13 | 2/8/2014 | BOTCH |
| 4x14 | 2/15/2014 | Grand_Moff_Joseph (2) |
| 4x15 | 2/22/2014 | BOTCH |
| 4x16 | 3/1/2014 | ShiningWizard |
| 4x17 | 3/8/2014 | clintster (2) |
| 4x18 | 3/15/2014 | BOTCH |
| 4x19 | 3/22/2014 | BOTCH |
| 4x20 | 3/29/2014 | cynicalminion |
| 4x21 | 4/5/2015 | Short |
| 4x22 | 4/19/2014 | Short |
| 4x23 | 4/26/2014 | cynicalminion (2) |
| 4x24 | 5/3/2014 | ShiningWizard (2) |
| 4x25,26 | 5/10/2014 | CipollinaFan |
| 4x25,26 | 5/10/2014 | FirstNationalBastard (2) |
| 5x1,2 | 4/4/2015 | Grand_Moff_Joseph (3) |
| 5x1,2 | 4/4/2015 | CipollinaFan (2) |
| 5x3 | 4/11/2015 | CipollinaFan (3) |
| 5x4 | 4/18/2015 | CipollinaFan (4) |
| 5x5 | 4/25/2015 | CipollinaFan (5) |
| 5x6 | 5/2/2015 | CipollinaFan (6) |
| 5x7 | 5/16/2015 | CipollinaFan (7) |
| 5x12 | 7/5/2015 | Captain Steroid |
| 5x13 | 7/11/2015 | null |
*250th post
**200th Post